by Jason Wieder
Mindy Kaling was born on June 25, 1979. She is a comedian and actress.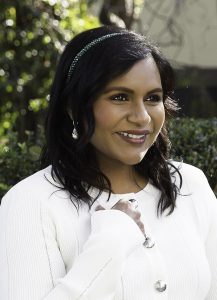 While Kaling has acted in several movies and television shows, she is most known for her character in The Office. Along with her role as Kelly Kapoor in the show, she also was a writer, producer, and executive director of this sitcom.  
Recently, Kaling created a Netflix series titled "Never Have I Ever." Kaling wrote and produced this series, which is based on her own childhood and young adult life. "Never Have I Ever" details the life of a teen named Devi as she comes of age as a first-generation Indian American. This show, important for its representation of Indian Americans and first-generation immigrants, quickly became popular and was Netflix's #1 Show of the Day in several countries within a few days of its debut. Kailing celebrated this accomplishment on her social media through an Instagram post capturing the show's stats on Netflix, and even dressed up as Devi this Halloween.  
Here are some films we have with Mindy Kaling in our collection: 
Inside Out (DVD 12881)

The Office, Season 1 (DVD 14154)

The Muppet Movie (DVD 9705)

 

Wreck-It Ralph (DVD 766)