by Andrew McCarthy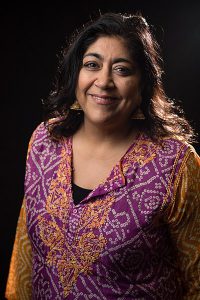 Happy birthday to director Gurinder Chadha! Chadha was born January 10th 1960 in Nairobi, Kenya. Her family later moved to the UK, and she studied at the University of East Anglia and the London College of Printing. Throughout her career, she's worked in the radio industry, the news industry as a BBC reporter, as well as directed award-winning documentaries for the BBC. 
While she gained notoriety for the film Bhaji on the Beach, where she became the first British Asian woman to direct a full-length feature film, she has also gained a lot of popularity as the writer and director for many feature films including: Bend it like Beckham and Blinded by the Light.  
Many of the films that she has written and directed help tell her own story; someone who wants to become their own person despite their parent's objections. She works within that space in order to find the drama for each of her films. It allows the characters to find each other's perspectives and grow and develop as characters through that journey of discovery. As an umbrella theme, this is very common in film, but Gurinder makes it her own by applying it to her own life; an immigrant's journey growing up in the western world.  
"Once the movie starts, I make it for myself. The film has to be your own." 
-Gurinder Chadha 
You can find many of Chadha's films in the Media Services collection:
Bend it Like Beckham (Available online; DVD 672)
Bhaji on the Beach (DVD 4958)
Blinded by the Light (DVD 16765)
Bride and Prejudice (DVD 1784)
Paris, je t'aime, "Quais de Seine" (DVD 3378)
What's Cooking? (DVD 251)